Gourmet Food Delivery Service : Picnics
The perfect package for sporting events, picnics in the park, weekends in the country, outdoor concerts, or romantic breaks.
A selection of sublime summer salads, smoked meats and our own beautiful hot-smoked salmon, savoury tarts, handmade sandwiches, the finest British cheeses with homemade chutney, homemade cakes and chocolates.
Accompany your picnic with bottles of Champagne Pommery, wine from our list, or a classic jug of Pimm's cocktail with lashings of fruit.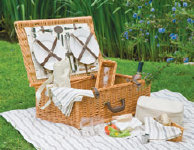 Order details: Hamper orders must be placed at least four days before delivery. In certain circumstances, a minimum of two days is required. Deliveries are free within a 10 mile radius of Edinburgh (EH3) or Central London (WC2N). Deliveries can be made to your preferred location, and will be subject to a surcharge.
From �20 per person
(minimun order of four persons)