Craig is an experienced demonstrator and teacher, engaging a range of audiences at various shows and exhibitions, from country fairs to large food festivals. He has an easy, approachable manner, and informative, anecdotal style when demonstrating. Deeply passionate and highly-enthusiastic, he has worked with Morrisons Supermarket PLC, Tropicana, Taste of London and Taste of Edinburgh, The Countryside Alliance at the Game Fair, Ideal World TV, The Marquess of Bute and eatBute Food Festival, Flavours of France, Coeliac UK and others.
He has also managed several restaurants during crises, including the Ardeonaig Hotel in Perthshire, Scotland.
He thrives on a challenge.
Click
here
to challenge him.
Craig Ian McAlpine, Chef Director
Consultancy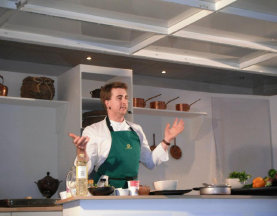 To discuss your requirements, please contact Craig directly:
Head Chef stand-in
Troubleshooting